Radiant Floor Heating Systems
Welcome to Warmzone, the Trusted Experts in Radiant Heating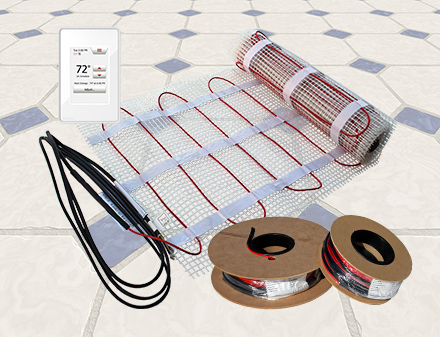 Warmzone specializes in premier radiant heating and offers the finest products available in low and line voltage radiant heat systems. We continually strive to exceed the needs and expectations of our customers.
● Warm specific, new or remodeled floors with supplemental radiant heat and floor warming applications
● Encompass your surroundings with total, luxurious in-floor heating ● Sit back and relax as your snow melts from your concrete, paver or asphalt driveway ● Save yourself from falling ice as you expand the life of your roof with roof and gutter deicing
Warmzone offers a variety of radiant floor heating systems. Your home will become a comfortable and efficient haven by installing a clean radiant floor heating system. The maintenance free heating systems provide warmth precisely where and when you want, and because there are no vents, no dust and allergens are blown throughout the house. The systems work under many different floor coverings including wood, tile, marble and concrete slabs. (In addition to heated floors, Warmzone also offers a variety of roof deicing and snow melting solutions.)
The wide variety of radiant heat systems we carry allows for installation into multiple residential and commercial applications, including basement heating, building entrances, pedestrian bridges, disability ramps, elderly care facilities, parking ramps, loading docks, nursery floors, roof deicing and more.
Another advantage of radiant heat is that the systems are easy to customize, so regardless of your home heating needs, you'll be able to find a floor heating system that is tailored specifically for you. Installing a heated floor requires science, not guesswork, so top radiant heat providers such as Warmzone carefully evaluate your needs and then their professional system design services staff provide a detailed system layout. This design includes all the system specs so all the information is on hand prior to any installation taking place. You'll know the proper layout and materials, load calculations, breaker sizes, number of breakers, and system performance expectations before any heat cable is installed. And Warmzone's professional radiant heat design team is not only committed to creating the system that best meets your floor heating needs, but fits within your budget as well.
Additionally, Warmzone offers free installation training. This service ultimately saves installers time and money. Radiant heat systems are only as good as the installation, which is why Warmzone provides this valuable service, as well as free installation tech support. We'll work closely with you to help ensure that the installation is done right.
Whether you are building a new house that a heated floor system can be planned for, or adding radiant heat to your existing floor, Warmzone has a wide variety of energy efficient radiant heat solutions to choose from. Warmzone's website is perhaps the most informative radiant heat site online, and their representatives are experienced pros who are friendly and willing to discuss your project without any sales pressure.
Heating Under Hardwood Floors Made Easy
Take advantage of clean, energy-efficient radiant heated floors. Whether you're building a new home, adding on to an existing home, or remodeling, the simplicity of ComfortTile, FilmHeat, or our low-voltage FloorHeat STEP radiant heat systems make floor heating easy to install.
ComfortTile Floor Heating Cable
ComfortTile systems feature twin-conductor heating cable that is matched with premium materials for superior performance. The convenient heat cable that is pre-spaced in mats are pre-terminated for use with 120 and 240V. Compatible with all standard sub-flooring materials, ComfortTile floor heating systems offer the premium performance expected from the industry leader. While CT floor heating systems are the most recommended solution for heating tile floors, the heating cable and mats can be easily installed under most other types of floor surfaces to provide comfortable, even floor heat. Radiant floor heating systems like ComfortTile provide efficient room heating, and reduce the transmission of dust, allergens and other airborne particulate matter associated with forced air systems.
ComfortTile heat cable is available on spools or pre-spaced on an adhesive-backed fiberglass mesh. While both configurations are easy to install, the cable off the spool makes it easy to heat small and custom shaped floors and areas.
FilmHeat Floor Heating Systems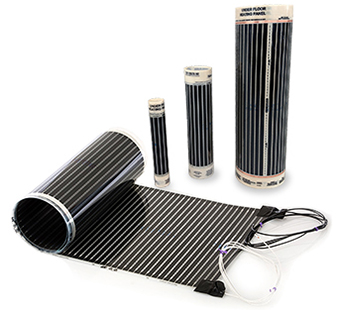 The FilmHeat In-Floor Heating system is one of the best values for installing radiant heat under laminate flooring. The floor heating system features a paper-thin heating element that can be cut on site. Because the heating element is so thin, FilmHeat floor heating systems do not require any floor buildup, and it will provide a moderate and regulated warmth that is ideally suited for heating laminate floors.
FilmHeat is laid out directly under the laminate as the flooring itself is being laid out, making it quick and affordable to install.
When installing the system, the heating panels are cut to their proper length on site and then installed over the subfloor. After the heating elements are secured, the electrical connections are then made and the laminate flooring is installed directly over the panels.
If you can access the floor joists from below, FilmHeat can also be used to retrofit existing floors with radiant heat. The heating panels are stapled up between the floor joists and then Batt insulation is applied over the heating element to direct all the heat upwards. This results in an affordable and highly efficient way to add radiant floor heating without having to tear up existing floors. (This is the same type of heating element as our RetroHeat floor heating product.)
The FilmHeat under floor heating system consists of heating panels, connection materials, and a unique digital thermostat that includes a 16-amp GFCI breaker and floor sensor for accurate programming.
FloorHeat STEP Low-voltage Floor Heating System
FloorHeat STEP also features a flat floor heating element that can be installed directly underneath floors. Because these self-regulating radiant heat systems are low voltage, FloorHeat STEP is an excellent system for heating hardwood. The self-regulating property prevents the element from over heating, so the hardwood will not discolor or get damaged due to excessive heat expansion and contraction.
The FloorHeat heating element is a thin, yet very durable polymer element that can also be used to provide radiant floor heat for other types floor surfaces including tile, laminates, slate, marble, etc. The flexible heating element can easily be cut to the desired length and field-wired on site. The heating elements are secured to the subfloor with adhesive, staples, or pegs, and thinset can be applied directly over the heating element for quick and easy installation.
FloorHeat STEP Features:
● FloorHeat is a flexible and thin (1.2 mm) mat made of a unique polymer blend that heats when electricity passes through it.
● Due to its innovative polymer design, the heating element acts as a sensor on its whole surface and cannot overheat.
● The self-regulating attribute of FloorHeat means that when the ambient temperature rises, the electrical resistance increases and the consumption of electricity decreases.
● The heating element's self-regulating, low voltage characteristics make it safe for heating hardwood and very energy efficient.
● The heating element can run on either AC or DC current.
FloorHeat is excellent for heating floors because it is so thin that it will not affect your floor buildup, weight loads, or flooring choices. Its durability and versatility is also perfect for remodeling jobs and retrofit applications.
Invest in Warmzone Floor Heating Systems
● A dynamic selection of the most trusted radiant heat products.
● Industry leading system design (and AutoCAD) services.
● Technical support and free installation training.
● Excellent competitive pricing, including special benefits for contractors / professional builders.
● Dedicated staff of experts to provide personal installation support.
● Honesty and Integrity.
● The most informative and educational online resource for radiant heat manuals, technical guides, data sheets, illustrations, instructional videos, and more. (All available for free download.)
● FREE interactive, online installation training courses.
The Benefits of Heated Floors
LUXURIOUS COMFORT - Radiant floor heat provides a luxurious, comfortable warmth that must be experienced to truly appreciate. The floors warm efficiently and evenly, heating your home from the floor up.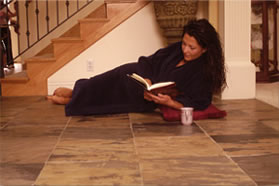 EASY TO INSTALL - The top electric floor heating systems are not labor intensive. The heat cable is available in spools or mats (pre-spaced with an adhesive-backed fiberglass mesh backing) for easy, roll-out installation.
MAINTENANCE FREE - Electric heated floors have no moving parts, which makes them reliable and virtually maintenance free. Yearly checkups are avoided so there's no need for routine maintenance and common repairs.
PROGRAMMABLE THERMOSTAT – The programmable thermostat can be programmed for each day of the week, so you can have your heated floors turn on early, just before you wake up on the weekdays, and later on weekends.
WISE INVESTMENT – Installing a radiant floor heating system not only adds comfort and efficient home heating, but it's a great way to increase the value of your home.
Call a radiant heat expert today to learn more at 888.488.WARM (9276).